Project Genesis
In 2016, Mal McLaren, founder and CEO of McLaren Engineering Group, conceived of the idea for an aerial ropeway transportation system (gondola) crossing the Hudson River to connect the Rensselaer, NY Rail (Amtrak) Station with Downtown Albany, NY.
McLaren had recently completed the design engineering for a gondola project in Macau, China for gambling mogul Steve Wynn, who built a similar system to connect his hotels and casinos in the gambling capital of the world.
Initially this seemed like an elegant solution for moving rail passengers to and from America's 9th busiest train station in Rensselaer to the Capital of New York State in Albany.  Upon further review, Mal realized the potential for such a project was far greater than only Amtrak patrons.
McLaren did a desktop analysis of the ridership potential beyond the rail station and across the region, quickly discovering the idea, and the numbers, made a lot of sense.
825,000 people/year utilize the Rensselaer Rail (Amtrak) Station
500,000 annual visitors to the Times Union Center
500,000 annual visitors to the NYS Museum
11,000 government employees work at the Empire State Plaza Government Complex
2 million people/year visit Downtown Albany
Feasibility Study
Based on its initial findings, in July of 2016 McLaren and Doppelmayr USA commissioned a study to more formally consider the feasibility of a one-mile gondola system in New York's Capital Region.  The study looked at:
possible alignments
technical feasibility
capital & operating costs
potential ridership
environmental impacts
approval constraints
stakeholder interest
community support
The study, conducted by Camoin Associates of Saratoga Springs, NY, also took a cursory look at the potential economic impacts of the project.
Deep Dive: Ridership, Revenue & Economic Impact Study
Following favorable findings by McLaren and Camoin, Steer (formerly Steer Davies Gleave or "SDG") was engaged to provide a high-level ridership and revenue study and an estimation of economic impacts and a financial analysis for the project. Steer's review consisted of the following four analysis phases:
Data Collection and Market Base (Phase I)
Ridership and Revenue Estimates (Phase II)

Market segmentation
Revenue and ridership streams

Financial Feasibility Analysis (Phase III)

Assumptions and cost
Revenue sources

Economic Impact Analysis (Phase IV)

Direct impacts
Induced impacts
Tax revenue
After completing its analysis, Steer provided a summary of the main observations of the study:
Summary and Conclusions
Bankability
Subsidy requirements
Public benefits
The report document describes the findings in detail for each phase of the study and provides a summary and conclusion chapter.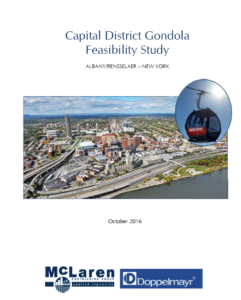 Feasibility Study (McLaren/Doppelmayr USA)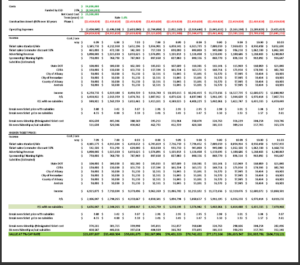 Ridership Revenue & Economic Impact
Summary - Steer
(formerly Steer Davies Gleave or SDG)
Go to Stakeholder's Portal.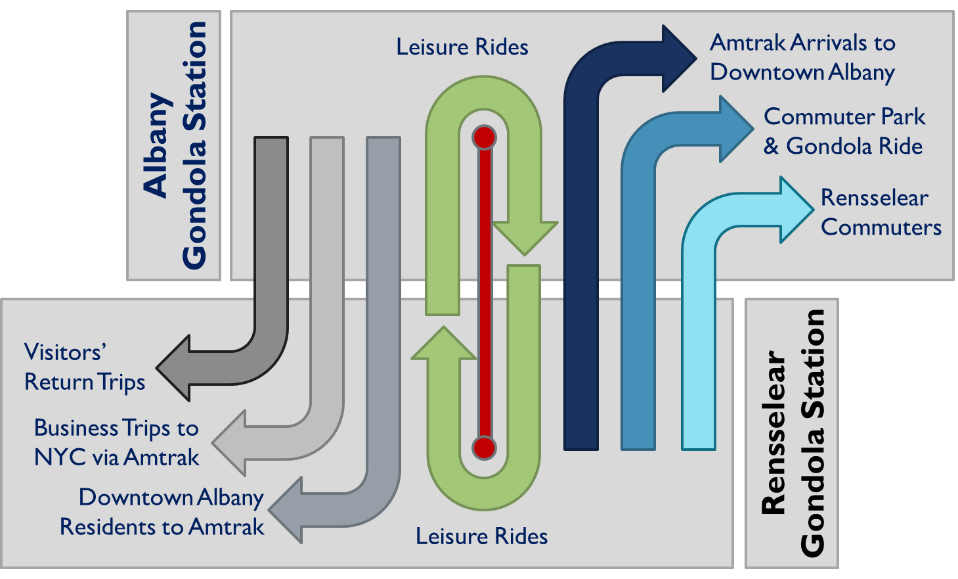 Data Collection and Market Base (Phase I)
Ridership and Revenue Estimates (Phase II)
Market segmentation

Ridership and revenue streams
Financial Feasibility Analysis (Phase III)
Assumptions and cost

Revenue sources
Economic Impact Analysis (Phase IV)
Direct impacts

Induced impacts

Tax revenue